Zeko
(above: try the game out
below: buy the complete version)
A calm and cute original puzzle game.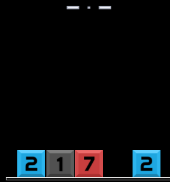 Introduction
Drop blocks of the same kind on top of each other to make a match.
A match transforms the 2 blocks into a single block and increases its number. So look for the right number and plan your next move.
Clear stages to unlock the next one. Each stage has its own challenge.

What makes this game unique
- An original puzzle mechanic
- A selection tool that uses 2 hands (keyboard and mouse)
- No timer or other component to make you hurry up
- The level icons change when you select Difficult Mode

Features
- Animal game mode (complete levels)
- 9 levels to complete (+ 9 in the difficult mode)
- Survival Mode (a challenging mode that requires quick thinking)
- Achievements
- There are no ads or in-app purchases.
- No data collected on gameplay/behaviour tracking.
- Steam key included.

Play time
Animal game mode: about 30 minutes.
Survival: 2 minutes on avarage.




Accessibility info
- Vision: backgrounds can be turned off and the blocks are numbered.
- Vision: the game can be played without reading. (there are visual and audio cues)
- Vision: no in game flashing/flickering images.
- Hearing: no important audio only-cues.
- Cognitive: simple short language.
- Cognitive: interactive tutorial.
- Language: English


Zeko is also available on Steam

Follow me on Twitter @RogertyGames!
Consider becoming a Patron to become a credited indie game supporter. (+ obtain special perks)

| | |
| --- | --- |
| Status | Released |
| Platforms | Windows, macOS, Linux, HTML5 |
| Rating | |
| Author | rogerty |
| Genre | Puzzle |
| Made with | Construct |
| Tags | 2D, accessibility, Animals, calm, Casual, child-friendly, Colorful, Cute, Relaxing, Touch-Friendly |
| Average session | A few minutes |
| Languages | English |
| Inputs | Keyboard, Mouse, Touchscreen |
| Accessibility | Color-blind friendly, High-contrast, Interactive tutorial |
| Links | Steam |
Purchase
In order to download this game you must purchase it at or above the minimum price of $2 USD. Your purchase comes with a Steam key. You will get access to the following files:
Zeko (Windows, Mac, Linux version included)
409 MB
Comments
Log in with itch.io to leave a comment.
Managed to pick up the game on sale, made some kind of bonus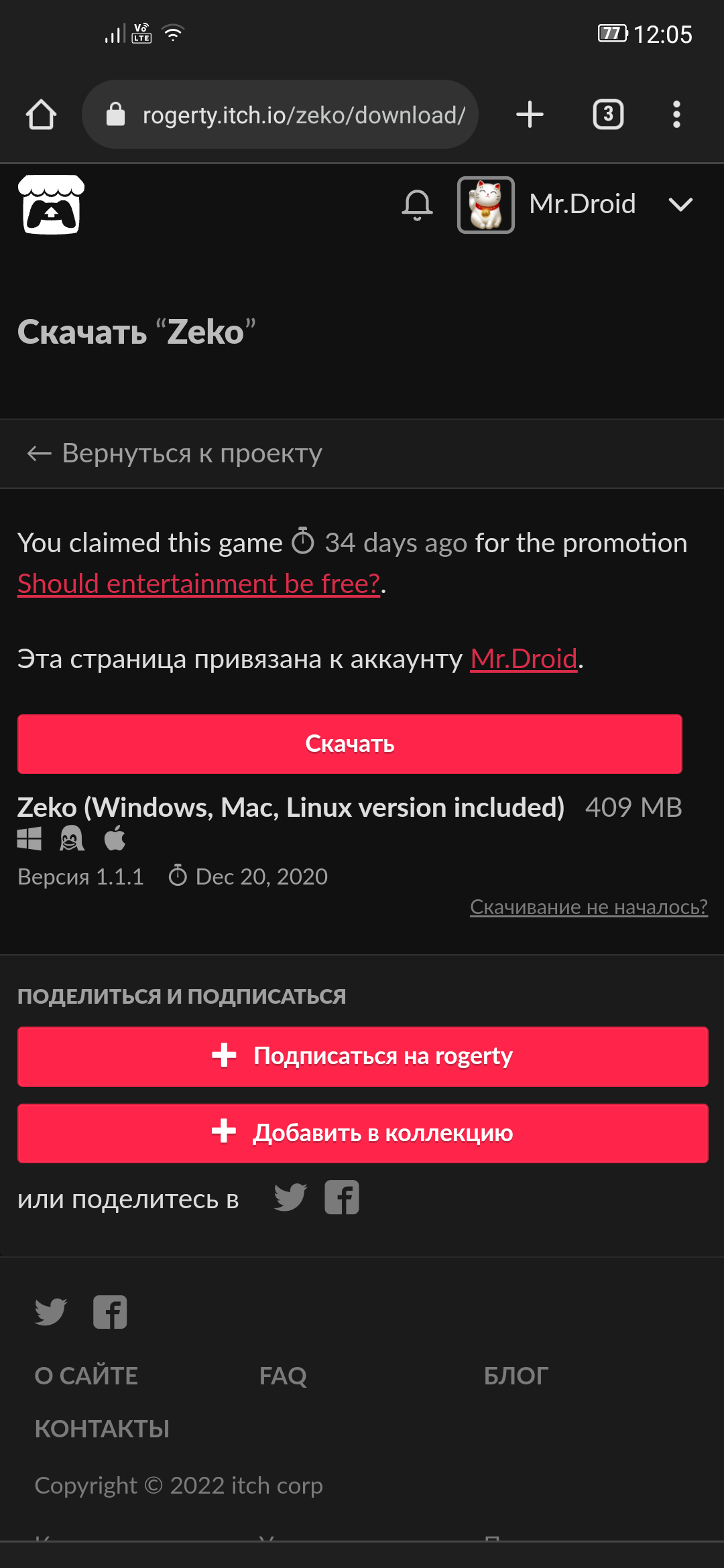 I get a "This is a Demo" when clicking on the Monkey.
even though I purchased this game on Steam.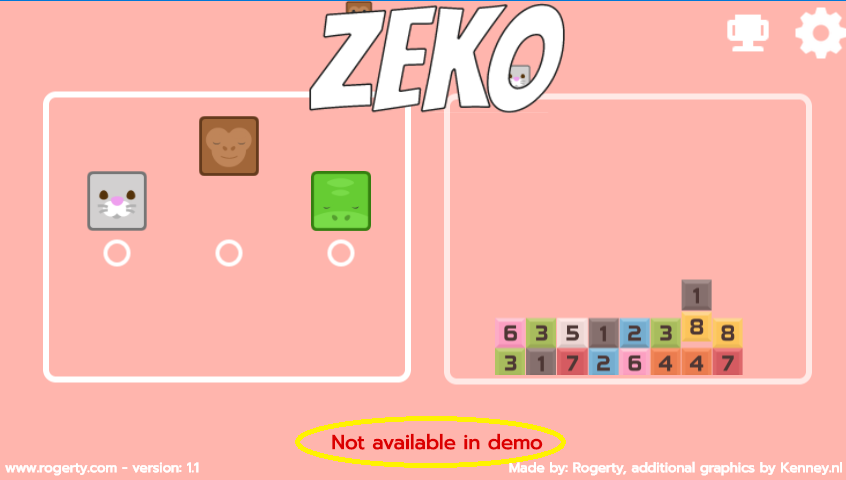 I made a small mistake. It is actually not a demo, you can play through all levels. However, the text of the demo version is displayed. That is incorrect. I will make a small update to correct this!
I fixed it with the latest tiny update! (v1.1 --> v1.1.1)

The music does not stay disabled.
Thank you for the notification. I will add this to the next update.
I've updated Zeko, so this is fixed! :)
One request I have is if you could add the WASD keys also.
I'm right handed, so I have to move my keyboard to the far left to play with the arrow keys and mouse.
Thank you.
The block would not fall down all the way for a long time. I'm not sure why that would happen.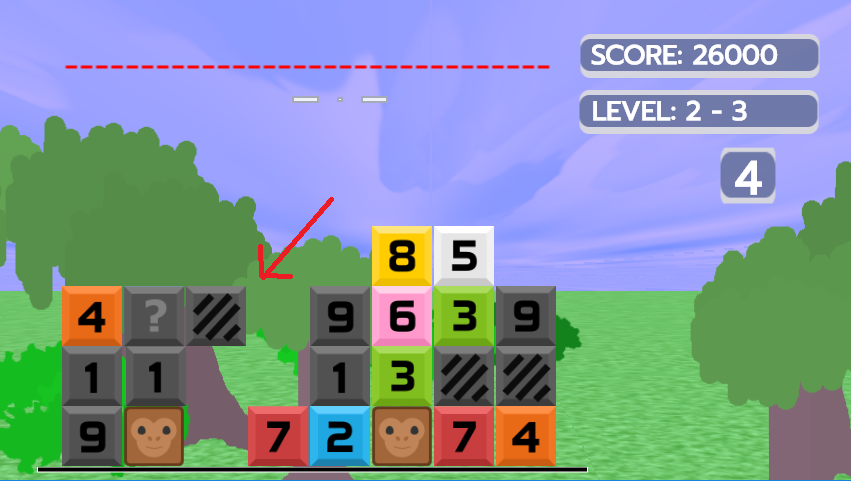 .
hello Mark, I haven't seen this before. An interesting find! I will add this to the list and see if I can find and solve it.
This and all other issues you found are fixed!
I noticed the Steam version has not been updated for two weeks.
Is that the version you're updating?
Thanks again.
There is a vertical blue line down the center of the background for the Monkey Puzzles: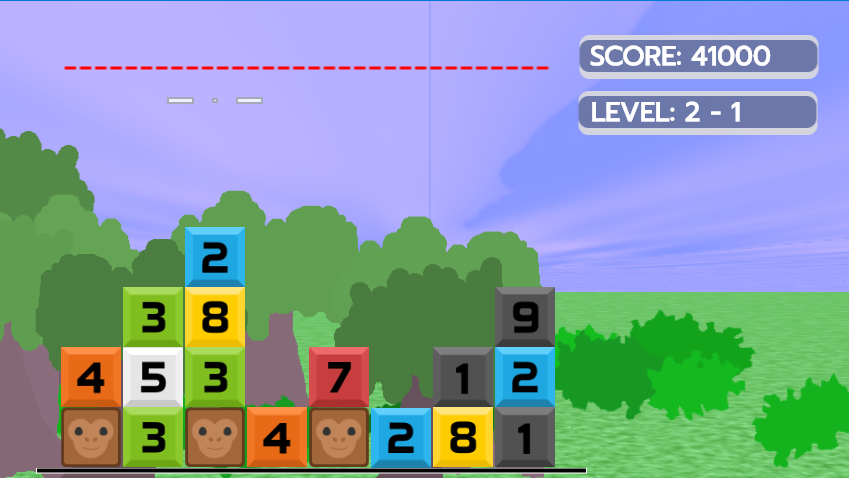 Hi Mark, thanks for adding a screenshot. This issue is unfortunately already on my To Fix-list. I have not find a way yet to fix this. As you probably know, it is not game breaking or gameplay affecting however.
Do you play full screen or windowed?

Other than maximizing the Window, I have not seen an option for Full Screen.
I play it in a Window, the small size. Sometime I maximize the Window.
hello Mark, I could not fix this. It is part of a plugin I am using and I do not know how it works. When you change the size of your layout/window a little bit, the blue line should disappear (or appear again).
There's a random problem where the game stops working on the Monkey Levels-2-2 and 2-3. When you click the mouse it just shows a countdown 5-4-3-2-1 before dropping another piece, but you cannot play on anything.


hello Mark, thanks for taking time to let me know. I hope I can find and fix it. Just curious, how did you get your copy? Bought it, early test version, press copy?
And do you know which version you run? The windows 64 version?

Edit 1:
So far I have tried monkey-2 and -3 twice without encountering the bug.
It is hiding very well...
You said it happens random, so I will keep this on my To Fix-list.
For now, it seems that if you restart the monkey part, the problem will probably not occur again...
Hi Roger,
I purchased a copy of your game on Steam yesterday. I am running it on a Windows 10 (64 Version). I don't know if the version Steam uses is 32 or 64 though.
Thanks a lot for buying! Thanks for your reply, that will make me focus on the windows version when trying to find the bug.
Hey. I just played your demo. I love it. At first, I did not get that I have to let animals fly away. However, later I figured it out, and I finished the game in 80 seconds and 20 moves. I hope to see the game again. I recorded how I played your game on the video. You can check it below. If you want me to delete the video, let me know. However, if you like the video, I make videos for such developers like you every day. I will be happy if you subscribe. Also, if you want me to play your games in the future, please tell me. I will be glad to play them.

Subscribed! Thanks for playing! I like how you record videos. You are just you. You are... The Great Vladyslu!
Thank you very much ^_^


Also, I am hosting a game jam that is going to happen at the end of September. You will be able to win some money to buy a pizza for yourself. I hope you join us. The link is here:
https://itch.io/jam/totally-ranked-jam